"Sanctuary" 1973
Graphite pencil, acrylic paint, and aluminum on gessoed panel. Signed R. Weaver lower right. This fantasy work based on the Biblical story of Jonah was featured in the 1974 Society of Illustrators, 16th Annual of American Illustration, Illustrators 16. (collection of the Herron School of Art, gift of the artist) #W197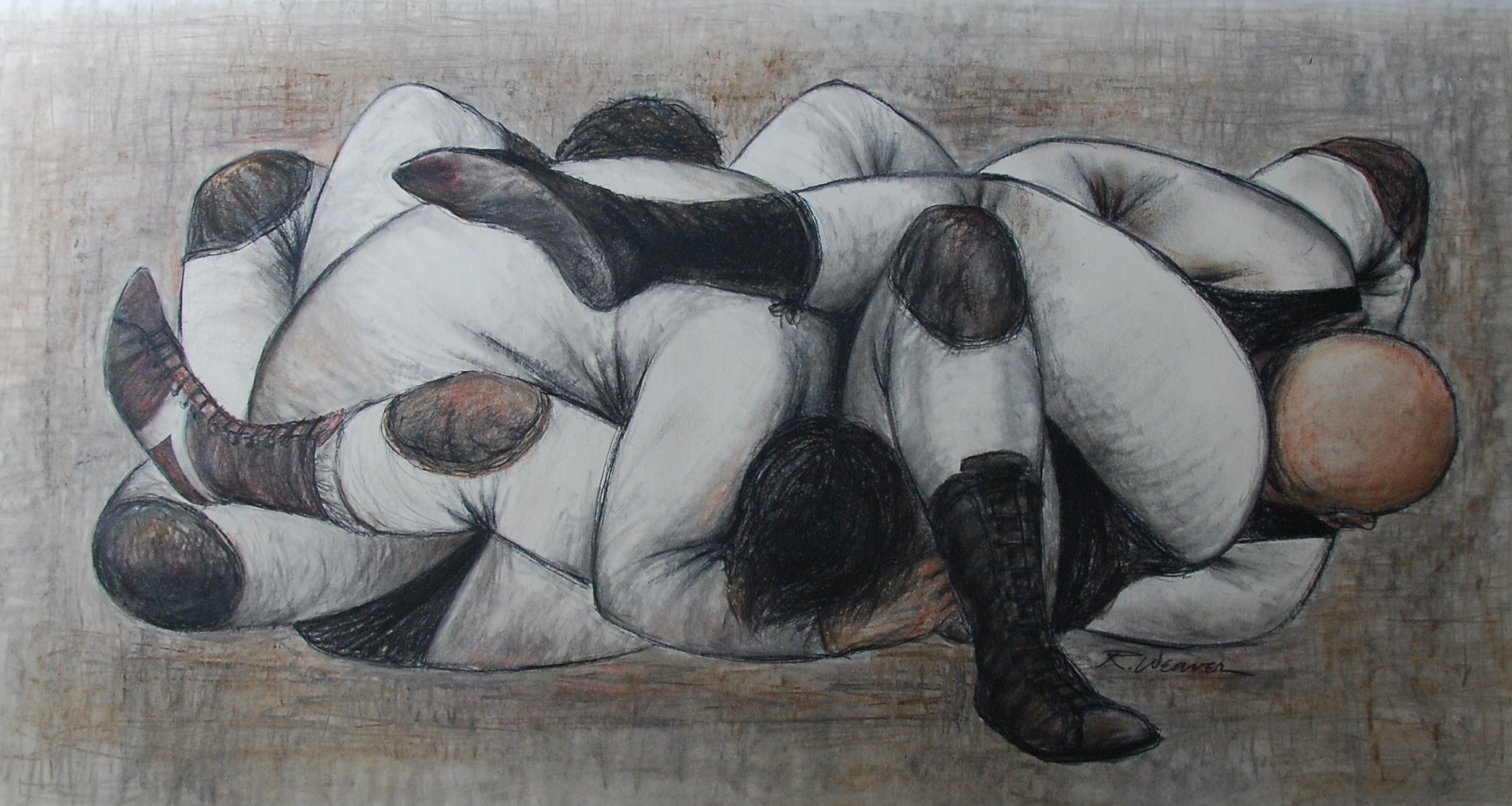 "Wrestlers" 1974*
Graphite pencil, pastels, and Prismacolor on illustration board. 32 x 17.5 inches. How many wrestlers do you see? #115
"Man with Scythe" c. 1950*
Charcoal pencil, with white chalk. 37.5 x 19 inches. #126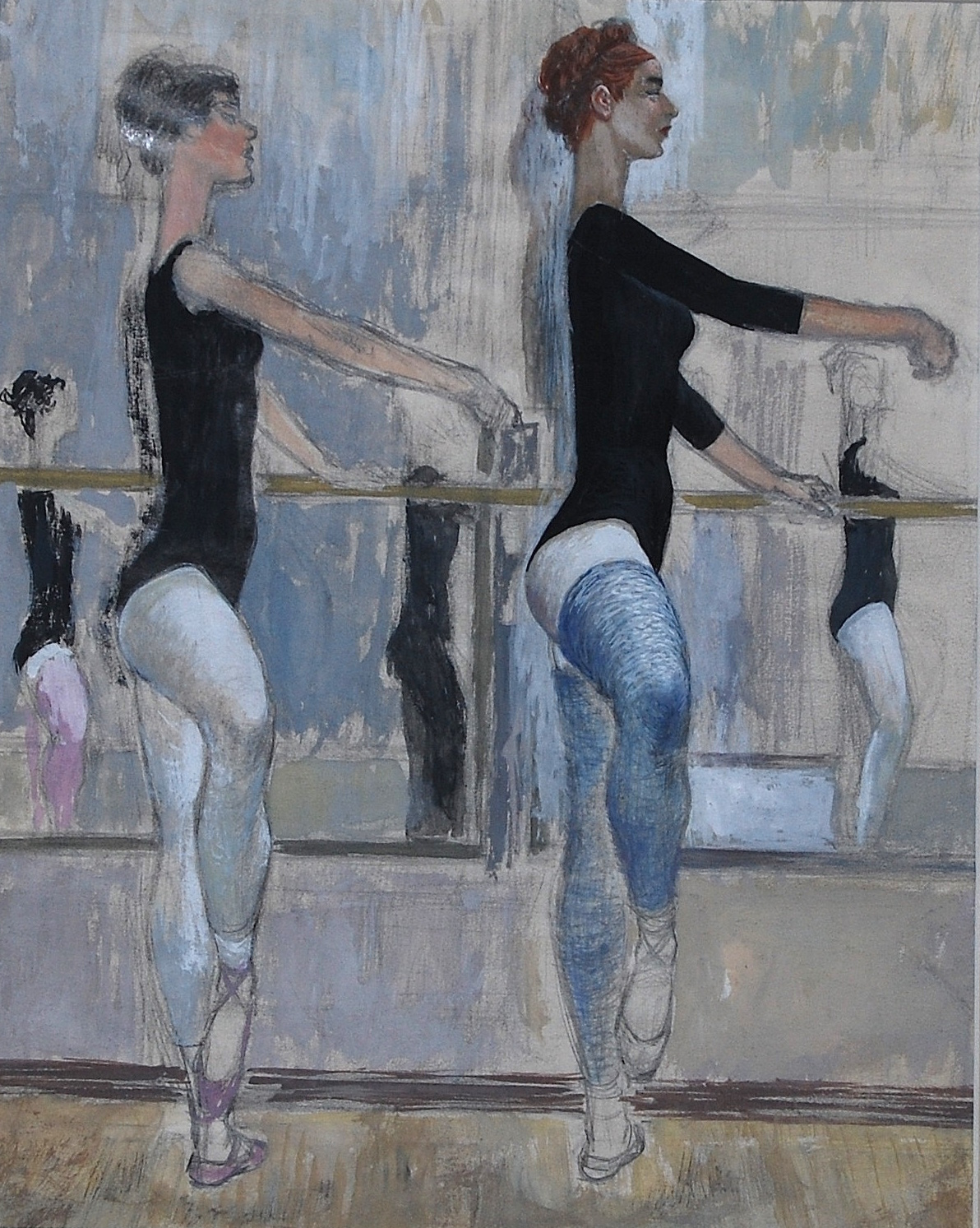 "Ballet Dancers" c. 1974*
Graphite and water color on paper. 11 x 8.75 inches. Matted. Unsigned. REW would often take his students from John Herron Art Institute to sketch during rehearsals of the Butler University Ballet (Indianapolis, IN). This work, although a study, has great depth because of its composition observing reflections in the dance studio mirrors to set the principal dancers forward. #331A Estate stamped.
"Aerialists Waiting" c. 1980*
Prisma Color on illustration board.
"Pole Wagon" c. 1985
Lithographic print, hand colored by the artist using Pismacolor, and pastels. REW hand colored only two of these Pole Wagon prints. One remains with the inventory the other is now in a private collection. The original drawing from which the prints were created was done in graphite pencil on gessoed panel. #180A
"The Bewildered Man" c. 1950
India ink and gouache on paper. Another gothic period work by REW in the same flavor as "Man With Scythe." REW uses perspective to draw you into the subjects world of contemplation.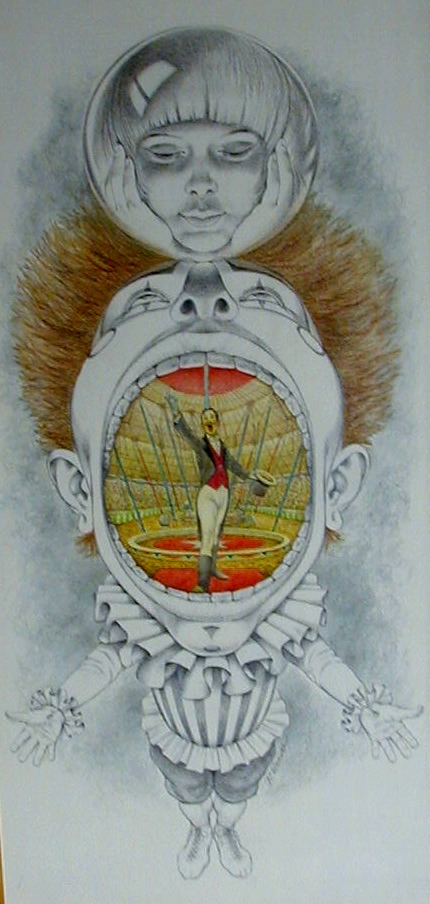 "Another Opening, Another Show"
Graphite pencil, Prismacolor, on board. c. 1980.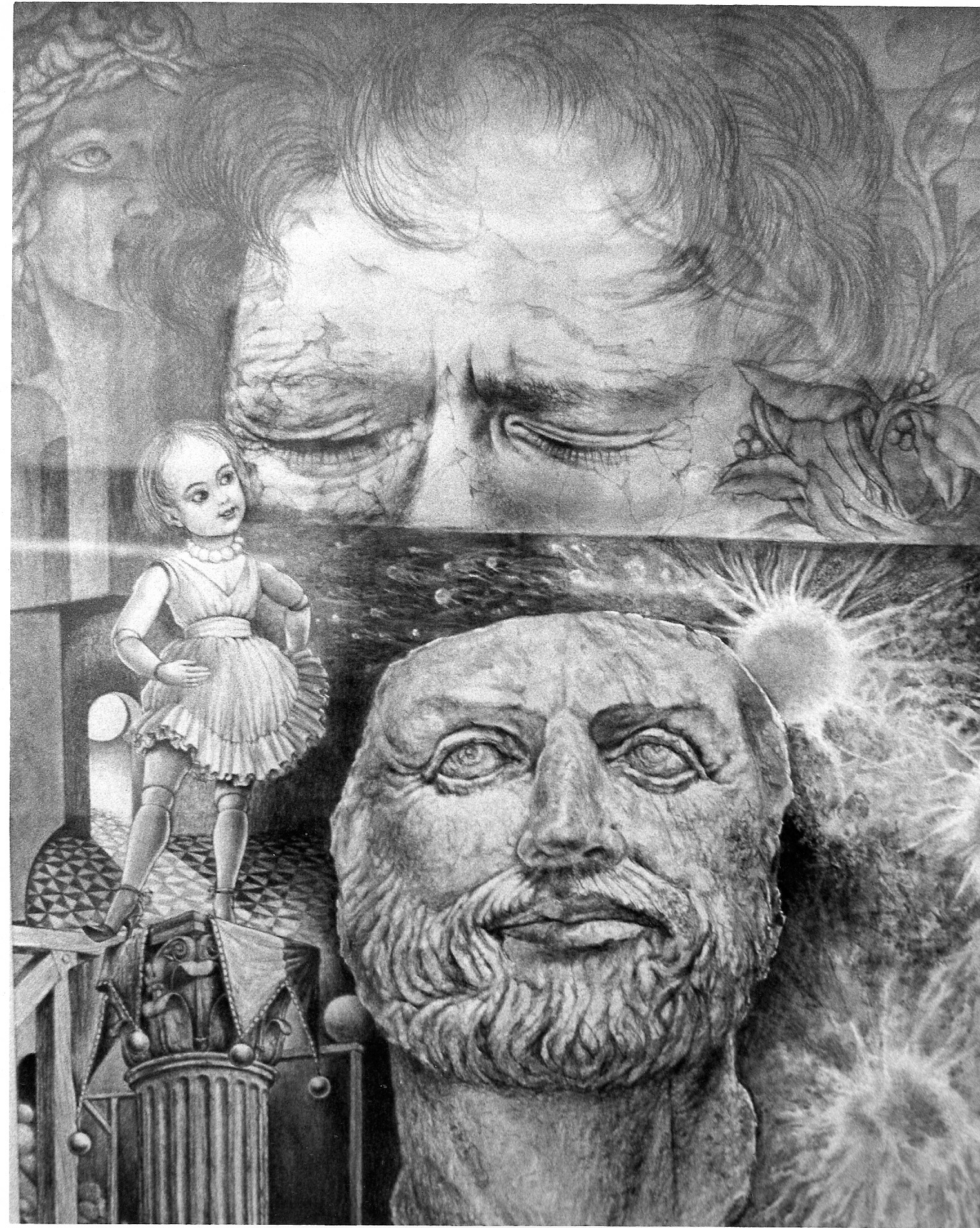 "Classic Forms"
Graphite pencil, india ink, gesso, on panel.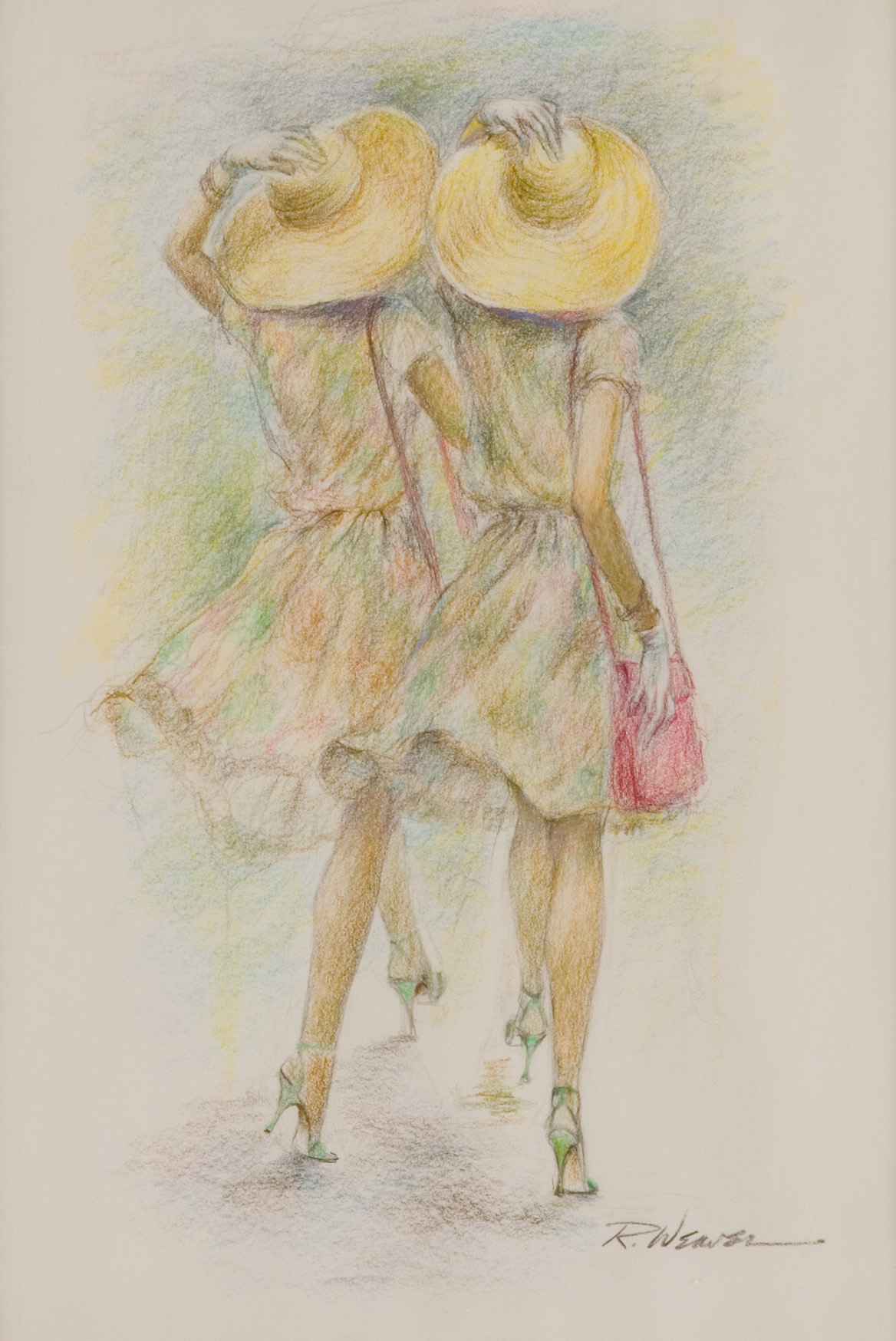 "Twins" c. 1984*
Graphite pencil, and Prisma Color. This is just one in a series of twins. REW enjoyed observing people, and illustrating them in a whimsical manor.
"Female Torso" c. 1970
Plaster casting with bronze patina. Signed "R. Weaver" on bottom of plinth. REW studied sculpture with David K. Rubins at the Herron School of Art, I.U.P.U.I during his time there in the 1930's. REW showed great talent in this medium, and was one of Rubins's favorite students. REW completed, at the most, 3 sculptures during his lifetime. (private collection of Tracy Thomas)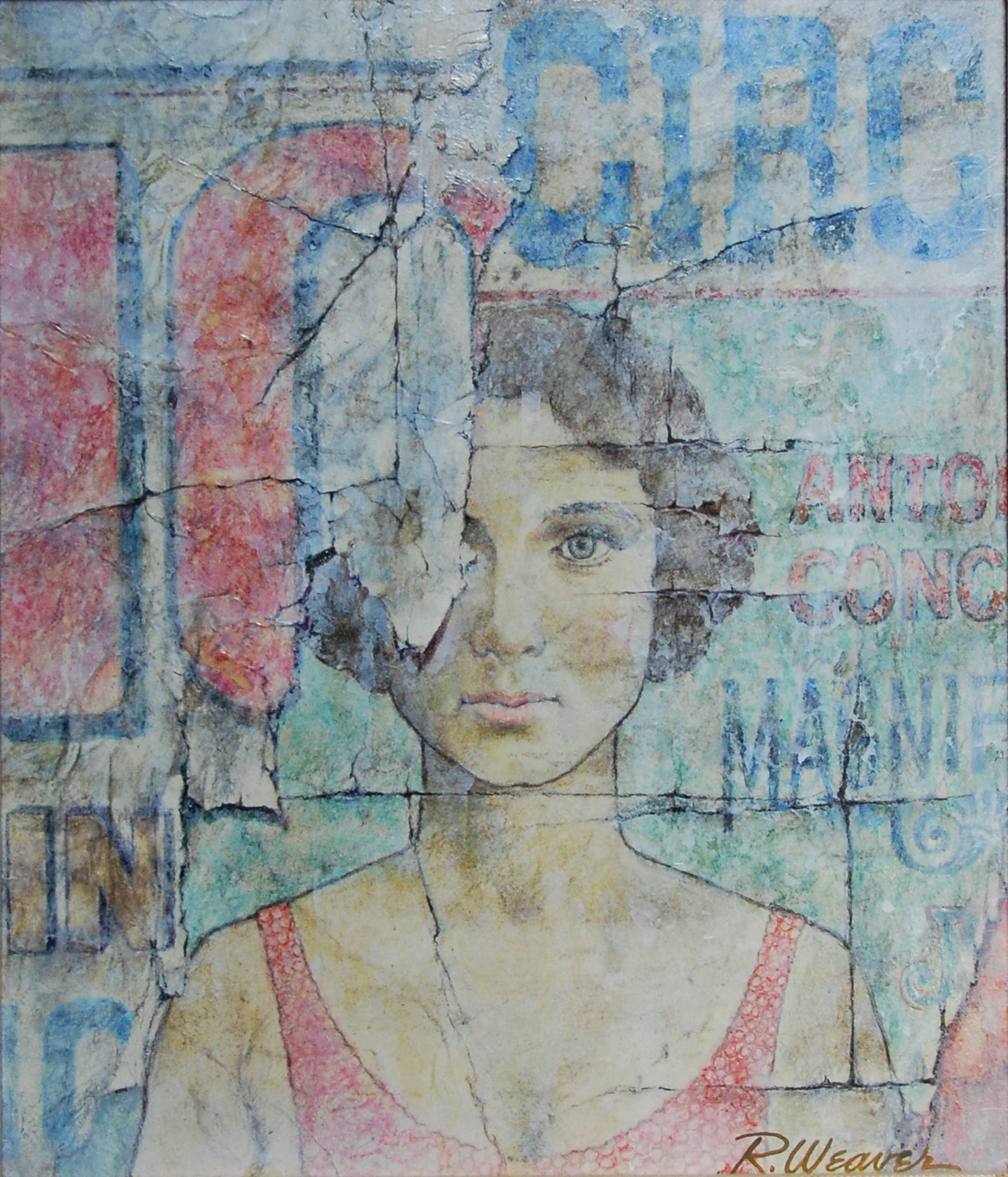 "Graffiti 1" c. 1982
REW produced several works using a torn paper layering technique, with water colors and/or Prismacolor. Harkening back to his 1956 painting "Circus Poster," now in the collection of the Indianapolis Museum of Art, REW was fascinated with the look of worn circus posters on buildings, reflections of the passing summers when the circus visited town. (private collection)