"Duel With Dutch" c. 1974 *
Graphite pencil on Illustration Board. 48 x 25 inches. This is the full size pencil drawing for the finished painting now in collection of John Mecom, Jr. The subject matter is famed racing driver Wilbur Shaw staving off one of his rivals. In this case, Charles "Dutch" Bauman. This work is fully matted and framed. Represented by Eckert & Ross Fine Art, Indianapolis, IN. #60
"Putting Up Tent" c. 1982 *
Graphite pencil on paper. 10 x 15 inches. Signed lower right R. Weaver. Unframed, matted and shrink wrapped. Nothing on the circus lot was more exciting to REW than watching the great Big Top go up. Here five workers, lead by the Boss Canvas Man, raise side poles, and fix the lines to stakes. #396
"Gloria" (aka) "Storm Warning" 1985
Graphite, on paper. 11 inches x 14 inches. Signed R. Weaver lower right. Once in a while REW would deviate from his usual subject matter to illustrate a moment or event. One of those events was the visit by hurricane Gloria in 1985, one of his first years living in North Carolina. This drawing was a study for the final painting. The painting sold but this drawing is still available for purchase. W84A
"Back Door" (Next Up) 1937
Graphite pencil/charcoal on board. 58.125 x 40.125 inches. Full size drawing for the fully realized painting that tied for first place in the 1937 Chaloner Prize competition. #39
"The Carlo Twins" c. 1980
Graphite pencil on paper. Signed R. Weaver lower left. #217
"Gemini" 1966
Graphite pencil on illustration board. Signed R. Weaver lower right. REW was known for his drafting skills. His knowledge of anatomy was so sound that he rarely if ever used models beyond school. #W81
"Pyre at Peru" c. 1989*
Graphite pencil on board. #W178
"Napping On Wagon Tongues" c. 1980 *
Graphite on paper. 10.5 x 14.75 inches. Matted and signed R. Weaver lower right. Exhausted "roustabouts" nap on the tongue of wagons. The tongue was the piece of equipment that horses were hitched to to pull the great circus wagons to there destinations. #403
"Blacksmith" c. 1955 *
Graphite pencil on paper. 13 x 9.25 inches. Signed R. Weaver lower left. Unframed, matted, and shrink wrapped. The blacksmith helped to keep everything running on the circus compound. The forge ran endlessly during the circus's stay in any town. Of course, he always had time for a beautiful performer that might stroll by. #422
"The Lovers" c. 1965
Graphite on illustration board. Signed R. Weaver lower right. The subject is self explanatory and demonstrates REW's great ability as an illustrator. #158
"The Barker" c. 1940*
Graphite on card stock, 11 x 14.125 inches, unsigned, estate stamped on the reverse side. Matted. A principal figure on any traveling circus was the Side Show barker. The barker's combination of wit and oratory guided patrons to the Side Show to see and experience the unusual. This is an early work by REW that demonstrates his great sense of figural composition.
"Birdie" c. 1973*
Graphite pencil on Illustration board. This image captures the fascination of the young girl with a favorite souvenir from the circus. #150
"Study of a Flier" c. 1937*
Graphite pencil on paper. Never straying too far from his love of circus, REW made this study of an aerialist in his dressing tent. It is very similar in composition to his "Circus Girl In Her Dressing Tent." (see paintings on this website) The subject is possibly Art Concello one of the great circus trapeze artists of his time. #597
"The Pull" c. 1938 *
Artist pencil on paper. Unframed, unsigned, matted in shrink wrap. Estate stamp on reverse. 8 x 13 inches. This early study by REW looks at a midwestern fair ground, and one of its more popular competitions. The horse pull. The study illustrates the power of equines guided by their equally strong master. REW had a great affinity for equestrian subjects both circus and civilian. #392
"Around the Stove" c. 1935 *
Graphite pencil, on paper. unsigned. 13"x 9 3/4." Circus performers gather around a stove in a rehearsal barn amidst the banners. Fully matted and framed in American chestnut 22 5/8"x 19 1/8." #225
"The Workers" c. 1960 *
Graphite pencil on paper. 12.5 x 10.5 inches. Signed R. Weaver lower right. Unframed, matted, and shrink wrapped. Circus roustabouts rest on hay bales waking to the cookhouse smoke. Sometimes food and a place to sleep were the pay on the traveling circus. #270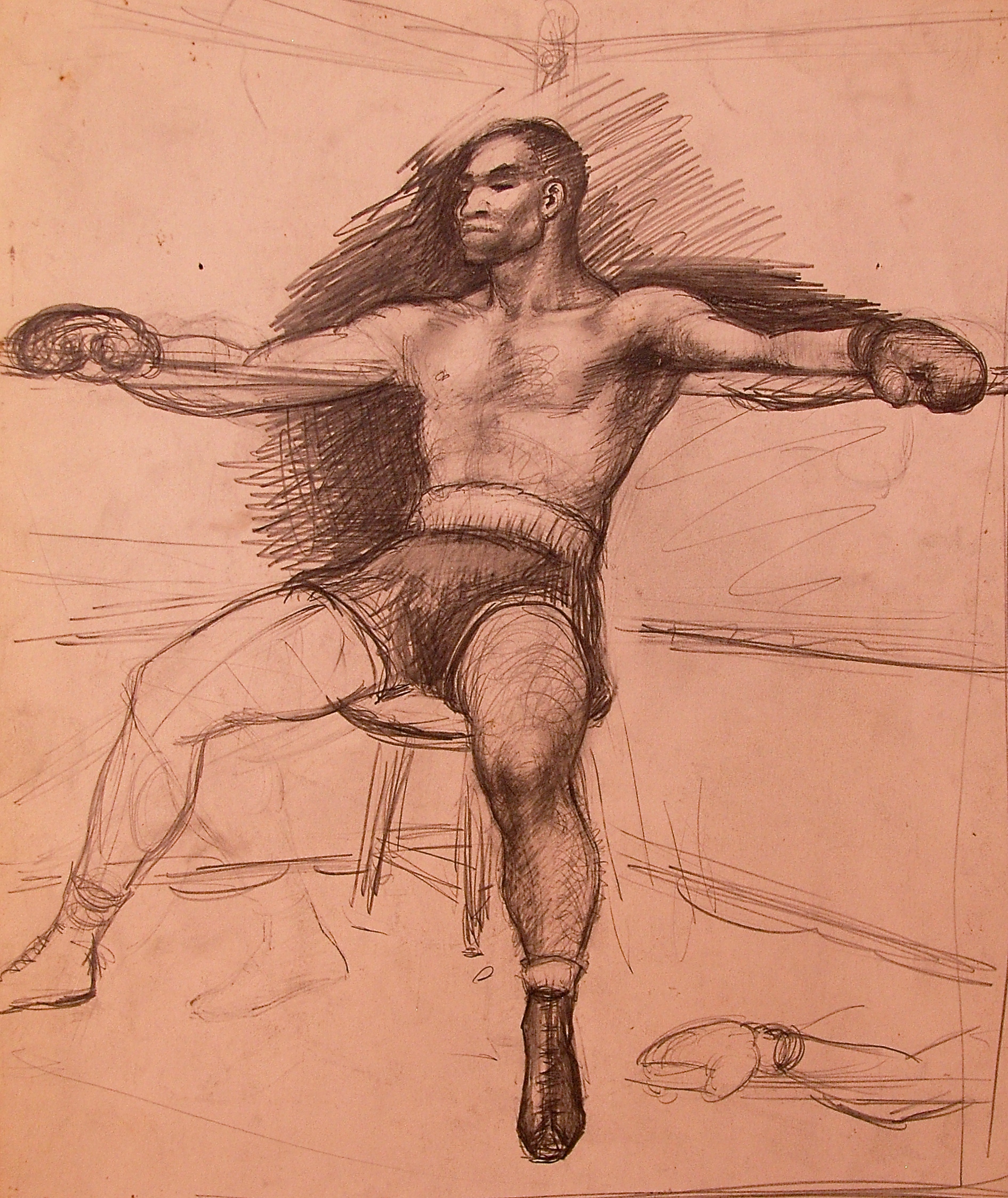 "Prize Fighter" c. 1930 *
Early study by Robert Edward Weaver. Possibly Joe Louis. (unsigned) #606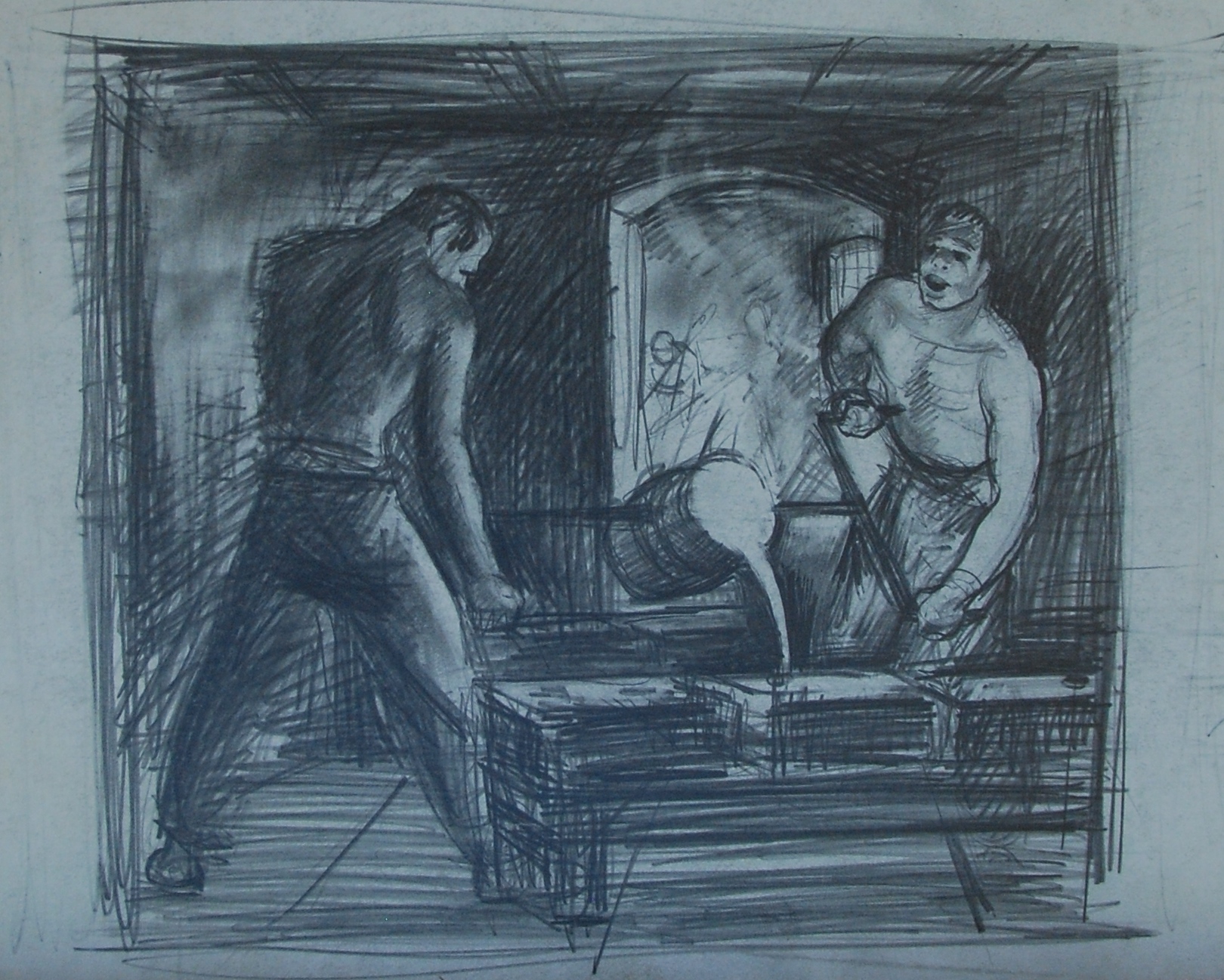 "Foundry Men" c. 1930 *
Unsigned early work by Robert Edward Weaver. #621A
"Poodles and Gracie" c. 1936 *
Graphite pencil and ink guache on paper. #571
"Lantern Man" c. 1980 *
Graphite pencil on illustration board.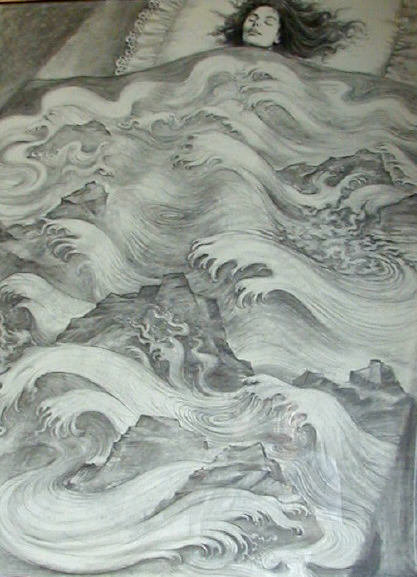 "Water Bed" c. 1979*
Graphite pencil on illustration board. A work of whimsy by REW. During the mid-1970's REW was working on ideas for a children's book. This was one of the many puny images that REW concocted out of his fertile brain at the time.
"Untited" c. 1932 *
Graphite pencil on heavy stock. (unsigned)
"The Survivors" c. 1944*
Another rare work from WWII by Robert Edward Weaver. #W232
"Between the Shows" c. 1975*
Graphite pencil on paper.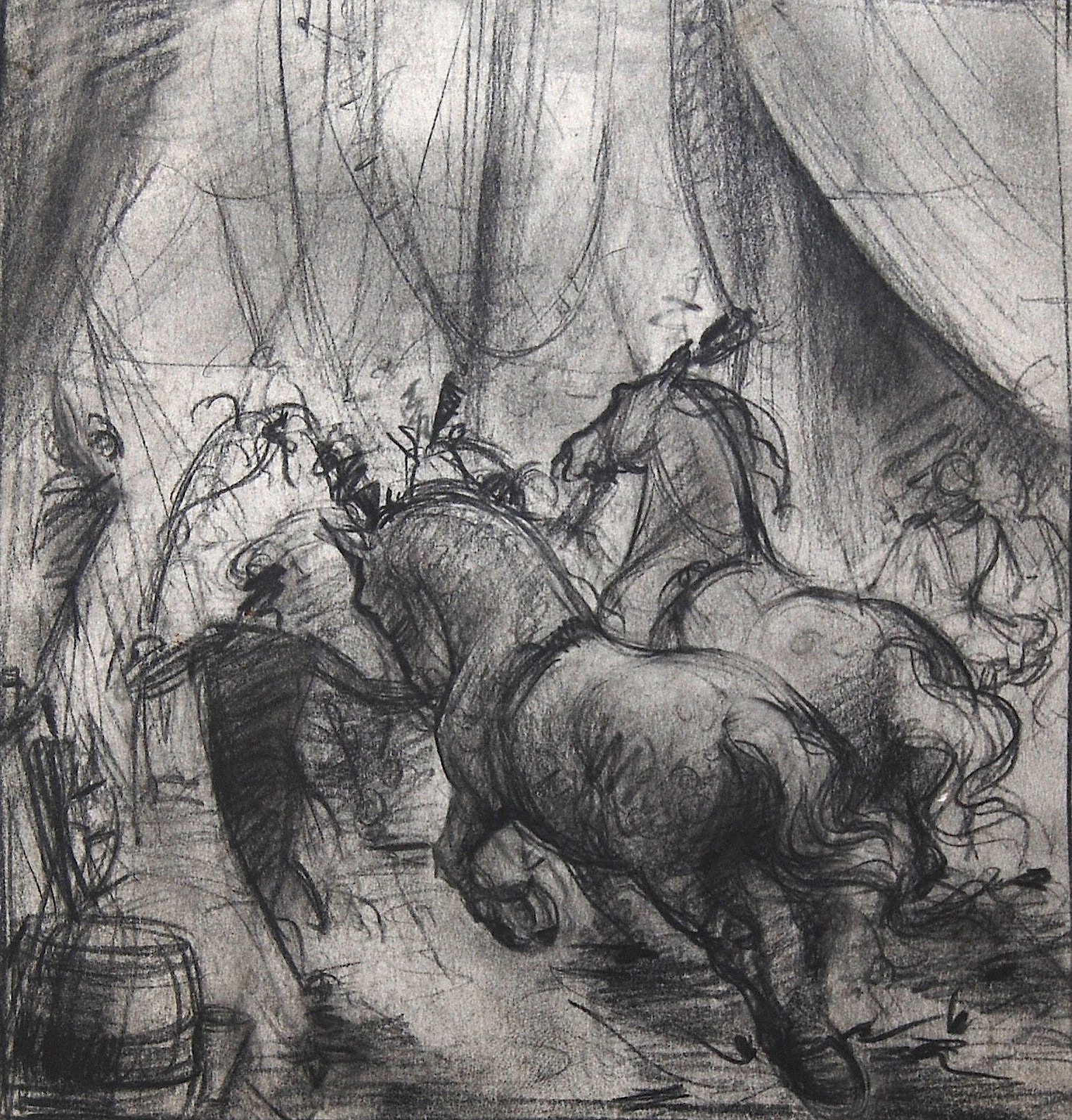 "Study at the Garden" (Madison Square Garden, NYC)*
This charcoal and pencil drawing was a study for a finished painting by REW. It dates to the period that he was working in New York City in the 1930's. The finished painting sold at Sotheby's Auction House in the fall of 2014.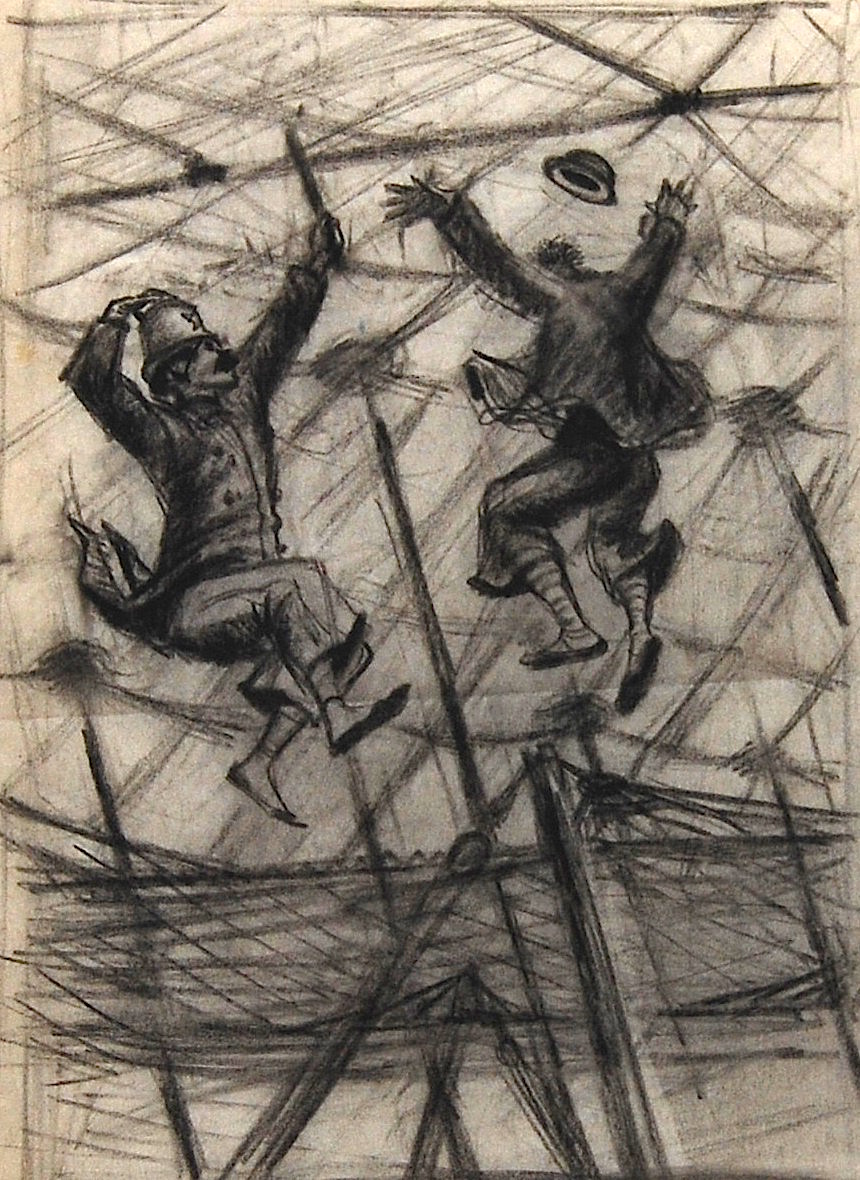 "Keystone Cops" c. 1935*
Charcoal and graphite pencil on velum. 17 x 14 inches. Study for a future work. #358
"Mexican Mother" (Madonna and Child) c. 1939*
Graphite pencil on heavy paper. This is a rare study by REW done in Mexico while still fulfilling his overseas study as a result of winning the 1937 Chaloner Prize. This most likely was executed in Guadalajara. The influence of his European study of Madonnas in the great museums of France undoubtably informed this work. #620
"Study of a Dancer" c. 1938*
Graphite pencil on heavy paper. This sketch is most likely attributable to REW's time in New York City or Paris. #612
"Women Washing" c. 1939*
Graphite pencil on heavy paper. Executed during REW's study in France. REW was interested in illustrating everyday people working in their environments in his compositions. #613
"Britain at War" c. 1939*
Graphite pencil on heavy paper. Unframed, unmatted. This sketch is an essay on choice of lifestyle done by REW when he was in London as part of his Chaloner Prize obligation. #617
"Girl Kneeling" 1939*
Graphite pencil on heavy paper. A rare London, UK work. This work is inscribed on the drawing lower left. "A Girl Kneeling, Practice Sketch, Done in London, June 21, 1939." The drawing demonstrates REW's great ability to draw the human figure. #619
Paris Window, 1939*
Graphite pencil on paper. When REW was in Paris during summer of 1939 he made several sketches of Parisian life. This drawing was amongst a portfolio from that time. #614
"Unloading Trains" c. 1940
Graphite on paper. 14 x 11 inches. Signed R. Weaver lower right. Even in the heavy rain, circus wagons were unloaded to get the show set-up and ready for the day's performances. The blowing tarps and powerful equines of the Hagenbeck-Wallace Circus give this composition great motion and depth. Two things REW was known to capture in his compositions. This is a relatively early study from a sketchbook by REW. This is a very strong drawing by REW. #406 (collection of Darrell Mitchell)
"Driving Wagon" c. 1985 *
Graphite pencil on paper. 14 x 10.5 inches. Signed R. Weaver lower right. Unframed, matted. As a boy it was an experience like this one, great horses pulling a Great Wallace Circus wagon that inspired REW for the rest of his creative life. This is a detail study for lithograph print #180 by REW. #238
"Doc Kieley" c. 1985 *
Pen and ink on paper. 12 x 9.5 inches. Unframed, matted, shrink wrapped. Signed R. Weaver lower left. This finished ink drawing by REW depicts the great circus clown Doc Kieley. This was a study for a large format fully realized painting #57. #276
"Poodles and His Horse" c. 1980 *
Pen and ink, with watercolor on paper. 12 x 9.5 inches. Signed R. Weaver lower right. The great Edwin Richard "Poodles" Hanneford was a friend, and greatly admired performer of REW's. He is the subject of many works by REW great and small. REW considered him the greatest bare-back rider of all time. #277
"Two Girls In Dressing Room" c. 1980
Graphite pencil on paper. Signed R. Weaver lower right. #289
"Unloading the Train" c. 1980
Graphite pencil on paper. Signed R. Weaver lower right. #393